Setup Professional Business Email For Your Business Today
Most Affordable Email Solution In Malaysia
Free email accounts such as Hotmail, Gmail and Yahoo mail are perceived as unprofessional by your clients. These free email addresses diminish the value of what you are trying to offer to your clients. It gives a bad impression of your business. Having your own domain-based company email address is important to build trust and confidence with your clients.
Your customers are 9X more likely to choose a business with a domain-based email address compared to a business with a free domain or free email. Find out why
Secure Your Business Brand With Us​
What you get with our Professional Email Service
All You Need To Get Started
Access Your Emails From Anywhere At Anytime
Use your favorite browser to access your emails from anywhere in the world. Regardless of how you access your email (desktop or mobile device), you get a consistent look and feel. Our email support virtually any language, including non-Western character sets.
Share Anything With Coworkers
Our Business Email Solution allows you to share important documents with your colleagues. This helps to promote better team coordination and increase productivity. Your information is delivered smoothly to ensure better project execution, resulting in faster project completion. Among the information and documents that can be shared are:
Your email's security is our greatest concern. Our servers are equipped with enterprise-level security software to keep your site safe. Your email comes with spam-filtering software to keep unwanted spam emails away.
Video conference and communicate with your team
Our Business Email Solution comes with "Team Workspaces", this allows team communication across an entire organization. It includes an "always on" group chat panel, shared desktops and drag-and-drop file sharing. Save cost and hassle free!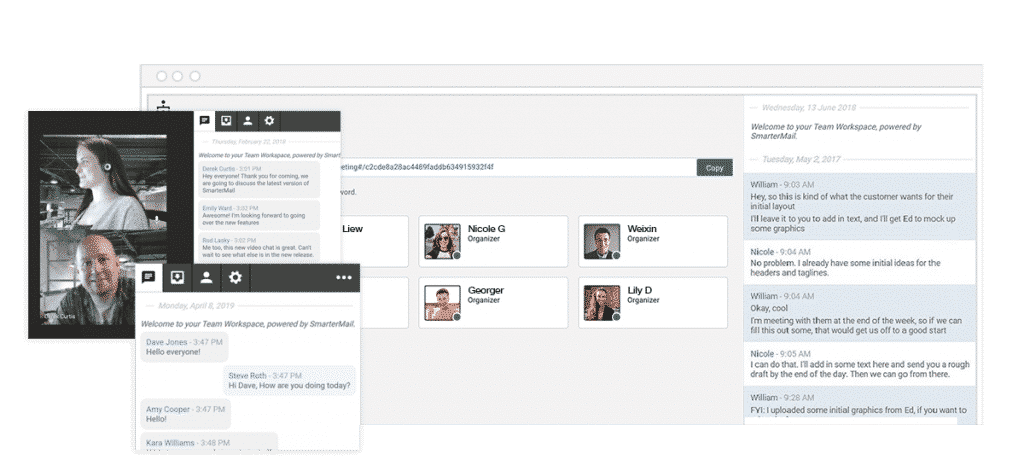 File Sharing
Share important files among team members. Extra services like Dropbox and Google Drive are no longer needed. Your email can do this.
Guest Participant
Share your meeting link to your partners or shareholders for them to join in your meeting even if they do not have our Business Email Solution. Collaborate with them in the same platform easily.
Audio And Video Conferencing
Audio/video conference can accommodate up to 8 individual participants, but those participants do NOT necessarily have to be part of your organization. Each user has full control over their own audio and video stream.
Group Chat
Users can text chat with each other across all features — including throughout a video conference — and the chat includes things like real-time image previews, link previews, the ability to add and upload files and much more.